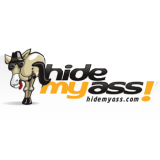 HideMyAss VPN Review and Speed Test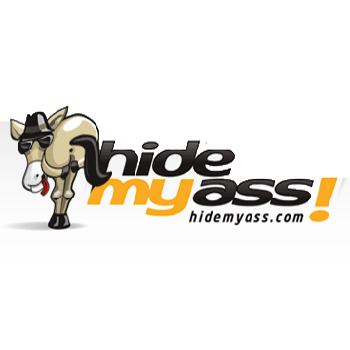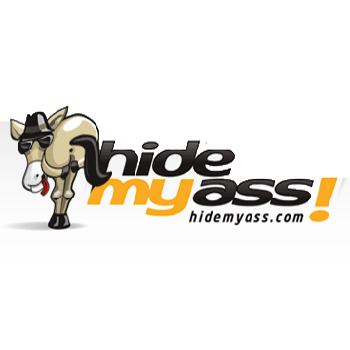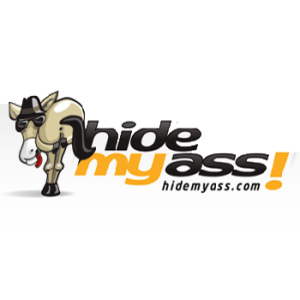 VPN Features
:
Best Value, Fastest VPN's, P2P Allowed
:
:
Posted February 22, 2013 by
TopDog
HideMyAss is the most popular consumer VPN provider in the world, and with good reason. HMA offers an impressive blend of Speed, Powerful Software, and Price. HideMyAss has more servers in more locations than any other VPN we've tested, and they won our top honors for Best VPN Software.
HideMyAss ProVPN Specs
| VPN Features | Details |
| --- | --- |
| VPN Protocols | OpenVPN, PPTP |
| Easy Software Setup? | Yes |
| # of Countries with Servers | 53 (344 total servers) |
| IP Addresses | Over 40,000 |
| Encryption | 256-Bit AES Encryption |
| DNS Leak Protection? | Not Explicitly, but no DNS Leak in testing |
| VPN Speed | Fast |
| HD Streaming Capable | Yes |
| Logging Policy | Longer than 14 Days |
| Skype Allowed? | Yes |
| BitTorrent/P2P Allowed? | Yes |
| BitCoin Accepted? | no |
| Mobile App | OpenVPN for Android. Manual iOS setup. |
| Other Features | IP Switching, Secure IP-Bind, Speed Guide |
| Customer Support | 24/7 Email, Live Chat, Phone |
| 1 Month Cost | $11.52 |
| 12 Month Cost | $6.55 |
| Money Back Guarantee | 30 Days |
HideMyAss Features
HideMyAss VPN offers a feature list that is unmatched by other VPN's. They have more then 350 servers in 53 countries and a staggering 40,000 unique IP addresses available to subscribers. Their best vpn features are discussed in the software section below, but a standout feature is HMA's On-Demand IP address switching and Scheduled Random IP switching, a feature that we have yet to find in any other VPN.
HMA Customer Support
HideMyAss offers great tech support. They offer Email, Live Chat, and even Phone support, and have more tech support staff nearly any other VPN on earth.
HideMyAss Software Review
While HMA is impressive on many fronts, their VPN software is where HMA really shines. They offer functionality that is unmatched by any other VPN which is why they topped our list of VPN providers with the best software.
HideMyAss VPN's Best Software Features:
Country Selection Tool
On-Demand IP switching
Randomized IP Switching
Smart Server-Load Balancing
In-Software Speed Guide and Speed Testing
Secure IP Bind Technology
Let's take a closer look at the HideMyAss software…
Dashboard View
The dashboard is the main software screen and offers basic functionality for connecting to the VPN server. Users can select their VPN protocol (PPTP or OpenVPN) and server location (all 350+ of them). There's also a connection log for closer inspection of the VPN connection.
After connecting, HMA displays a Giant green checkmark in the top right corner for confirmation. Also, you can see your old and new IP address in the dashboard view.
 Country Selection Tool
HideMyAss groups all servers by country to make it easier to find the location you want. Additionally you can use the map view and select your sever visually.
HideMyAss IP Address tools
This is a pretty unique feature that we have yet to see implemented in other VPN software. Users can change their IP address on demand (disconnects and reconnects to the same server with a different IP) or schedule random IP address changes every X length of time. So if you pick 30 minute intervals, HMA will automatically connect you to a new VPN server every 30 minutes. It's a great feature for the super cautious (we really mean paranoid :-p)
Secure IP Bind
Secure IP Bind is a super useful tool that will help ensure that sensitive information is never leaked in the event of a VPN disconnect (whether accidentally or intentional). Secure IP bind allows the user to specify which applications will only work from behind an encrypted connection. If you disconnect form HideMyAss, secure IP bind will instantaneously close the specified programs before they can transmit any data from your true IP address.
Common applications that users would add to secure IP bind are:
Secure/private web browser
Bittorrent Client like uTorrent, Vuze or Deluge
Any protocol that you don't want visible to your ISP such as skype, chat, email, etc.
Speed Guide and Speed Test
This tool let's you choose any or all servers from a list and evaluate their speed potential. You can just ping them (calculates the server response time) or do a full upload/download speed test for each server. That's what we did for this demo to show you.
Note: if you think the speeds look slow, look again, the speeds are in KB not kb (speed tests are usually measured in kb). 1 KB = 8.192 kb so the 1388 KB/s speed on the french server below is equivalent to 11.37 mbps which is pretty darn good for a European VPN server. Our test connection is actually capped at around 15 mbps, so speeds can't get much higher.
Intelligent Server-Load Balancing
If you connect to a city or country that has multiple servers, HMA notifies you if the server is more overloaded than average, and lets you choose to automatically connect to the least loaded server, so speeds are always as fast as possible.
HMA Proxy Options
Users can choose to add a proxy to the VPN tunnel for added security. You can use a HideMyAss proxy or one from a 3rd party.
 HideMyAss Speed Test
We elected to use HideMyAss's integrated speed test functionality to conduct the test. The reason? Browser based speed tests are notoriously inaccurate and can be dramatically altered by multiple factors. HMA's own speed test simply tests how long it takes to download an actual file of known size, making it quite accurate.
Important Note: Most speed tests are measured in Kilobits per second. HMA's speed test is measured in Kilobytes per second. Since 1 Kilobyte = 8.192 Kilobits, the true speed identified in the HMA speed test is actually 8.192 times the number observed. For convenience, we've included a conversion chart from Kilobits/second to Megabytes per second.
Speed Test Conversion Chart:
5 Mbps = 610 KB/s
8.192 Mbps = 1000 KB/s
10 Mbps = 1220 KB/s
15 Mbps = 1830 KB/s
Our ISP caps our bandwidth at around 15Mbps and since your VPN speed can't exceed the speed of your normal internet connection, this is the upper boundary for speed. Users with faster connections will likely find even faster speeds than those in our tests.
If you refer to the conversion chart above, you'll notice that servers over 1000 miles away were maxing out our 15 Mbps connection. Servers as far away as Finland were fast enough for full HD streaming on Netflix (requires about 7Mbps).
The bottom line is: no matter where you are, HideMyAss should have a server fast enough for your needs.
HideMyAss Review: Security
VPN security is obviously one of the critical factors when picking a VPN, along with price and speed.
Encryption
HMA uses industry-standard 256-Bit AES encryption for OpenVPN connections and 128-Bit encryption for PPTP. The result is a fast, secure connection that is safe from prying eyes.
HMA Logging Policy
Since HideMyAss is based in the UK, they are subject to local data retention laws. As such, they are compelled to keep connection logs for at least 6 months from before purging them. This is substantially longer than VPN's based in other countries. There are several VPN's that keep no logs at all including: BTGuard and Torguard.
Technically HMA allows Bittorrent usage on their servers, but if you choose to use HMA for this purpose, we recommend you stick to servers in Netherlands, Romania, and Luxemburg servers, and only download torrents you know to be safe and legal.
Who should choose HideMyAss VPN
Anyone. Seriously. Hidemyass has incredible software, an insane amount of servers, and fast speeds. It would work great for HD video streaming on Netflix or Hulu, unblocking websites like facebook, or just plain having a secure fast connection anywhere and everywhere. The best part is HidemyAss is extremely affordable. A 1 year subscription only costs $6.55/month and they have a 30-day money back guarantee on the off change you decide HMA isn't for you. Click the link below to visit HideMyAss.com and learn more…