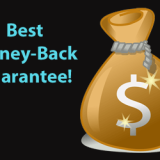 VPN's with the best refund policy or money-back guarantee
Bottom Line
While there aren't that many VPN's that offer a free vpn trial there are a bunch that have 100% money-back guarantees which is the next best thing. If you subscribe to any of these VPN's on our list, you will be able to get between 7 and 30 days of VPN Service risk free. If […]
Posted September 1, 2013 by
TopDog
While there aren't that many VPN's that offer a free vpn trial there are a bunch that have 100% money-back guarantees which is the next best thing. If you subscribe to any of these VPN's on our list, you will be able to get between 7 and 30 days of VPN Service risk free. If you aren't happy, just ask for a refund and try another VPN until you find the best one for your needs. Check out our VPN Reviews for help finding the perfect VPN for you.
So without further ado…Here's our list of VPN's ranked by Refund Policy/Money-Back Guarantee:
VPN's With a 30 Day Money-Back Guarantee/ Refund Policy
Torguard VPN
Torguard is excels in a number of categories, and their 100% refund policy is just one of those. If you aren't happy with Torguard, they'll give you a full refund for the month. They also are one of the best anonymous VPN's around. They keep no logs, accept Bitcoin, and allow Bittorrent on specific servers.
HideMyAss VPN
HideMyAss VPN also has a stellar refund policy. They place a couple restrictions on who can claim a refund, but we consider them all perfectly reasonable:
User must have transferred less than 10 GB of data
User must have connected fewer than 100 Times
User must not have violated the policies of HideMyAss
User must claim refund within the first month of service
It's pretty clear from these restrictions that HideMyAss just wants to make sure people aren't abusing their service or trying to exploit it for a free month of service. For a full list of HMA's rules, please visit their website.
For those that don't know, HideMyAss is one of the most popular vpn services in the world. They topped our list of Best VPN Software and also made our list of the Fastest VPN's. For a breakdown of what HMA does best, read our HideMyAss VPN Review.
VPN's with a 14 day Money-Back Guarantee/ Refund Policy
IBVPN
IBVPN Actually has a 15 day refund period, so you get an extra day. They also offer a Free VPN Trial with no payment required. IBVPN has a 100% money-back guarantee if you aren't happy with their service, but we predict that you will be. IBVPN topped our list of the Best Cheap VPN Services. They offer more VPN package options than almost anybody, and they have multiple VPN packages with unlimited bandwidth that start at $36.95 per year including their popular Torrent VPN package which costs only $3.08/month. Check out our IBVPN Reviewfor a closer look at what IBVPN can offer you.
VPN's with a 7 day Money-Back Guarantee/ Refund Policy
Private Internet Access VPN
PIA is an all-around great VPN. They made our list of the Best Cheap VPN's and offer their top VPN package for an incredibly affordable $39.95 per year. Even though PIA is trusted by 10's of thousands of users, they still have a great refund policy in the event that you need something different. Private Internet Access will refund 100% of your purchase price within 7 Days. Read our Private Internet Access Review to learn more about why PIA is one of our favorite VPN's. They offer incredible VPN value for the price and outperform some VPN services that charge 3 times as much.
IPVanish
IPVanish is another excellent VPN provider that makes customer support a top priority. They offer more server locations than any VPN provider other than HidemyAss and they made it onto our list of the Fastest VPN's. IPvanish offers easy-to-use vpn software, reliable encryption and solid VPN servers so you don't have the surprise disconnects of lesser VPN's. Check out our review of IPVanish for a full breakdown of IPvanish's capabilities. IPVanish will give you 7 days to request a full refund of your VPN purchase price.