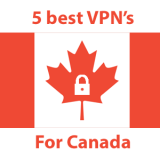 The 5 Best Anonymous VPN services for Canada
Bottom Line
Many Canadians are scrambling to find information on the best VPN service options for Canadians. Never fear, we've got you covered! All Canadian-based internet service providers are now required to maintain 6 months of data logs regarding their subscriber online activity. This change went into effect January 1st, 2015 and is the direct result of […]
Posted January 6, 2015 by
TopDog
Many Canadians are scrambling to find information on the best VPN service options for Canadians. Never fear, we've got you covered!
All Canadian-based internet service providers are now required to maintain 6 months of data logs regarding their subscriber online activity. This change went into effect January 1st, 2015 and is the direct result of Bill C-11 (commonly known as the Copyright Modernization Act).
Though this bill brings a much-needed update to the Canadian copyright code, there is a huge downside for Canadian citizens, in the form of lost privacy and lost anonymity online.
Canadian ISP's are now required to keep IP Address logs of their subscribers for a minimum of 6 months, but ISP's may also log even more sensitive data including:
Lists of all websites visited
Files Downloaded
Protocols/ports used
The easiest solution to protect your online privacy is to use a VPN (Virtual Private Network) service.
A VPN will provide two benefits:
All your transmitted data will be encrypted and unreadable by your ISP
Your VPN servers' IP address will be the only publicly visible address, your true IP address will be hidden. (Only your VPN service can see it)
Using VPN technology these days is extremely simple (often requiring only a single click to connect to your preferred VPN server). Here are our top recommended VPN's for Canadians.
How we chose our top VPN's for Canadians
For this list, we only chose from the most reputable VPN companies. We also prioritized companies with:
Extremely secure encryption (256-bit or higher)
Easy to use VPN software
Mobile device capable
Affordably priced
Non-invasive logging or zero-logging policies
We also didn't choose any VPN providers based in Canada. The reason is that Canadian VPN's are now subject to the same data retention laws as internet service providers, so you're better off using a non-Canadian company.
Best All-Around VPN for Canada – IPVanish
IPVanish is one of our absolute favorite VPN providers because of their impressive blend of speed, value, privacy, and security.
IPVanish uses delivers some of the fastest speeds of any VPN provider in the world, making them an ideal choice for bandwidth intensive activities like HD Video streaming, watching Netflix, or file-sharing.
IPVanish is based in the USA where VPN's are not subject to data retention logs. As a result, IPVanish has decided to implement a zero logs policy. They do not log any information about your connection or browser history. They are one of a small percentage of VPN services that offer this level of privacy.
Our Favorite IPVanish Features:
256-bit Encryption with OpenVPN
Excellent desktop software
Free mobile app for Android/iOS included
120+ server locations in 70+ countries
4 Canadian servers (3 in Toronto, 1 in Vancouver)
Tier-1 data network = Fastest possible speeds.
Torrents / File-sharing allowed
No Logs. Period.
Best VPN for Torrents – Private Internet Access
Private Internet Access is a favorite among Bittorrent users because they keep no logs, have fast speeds, and allow torrents on all servers. Private Internet Access also offers extra features that are extremely useful for torrents, including:
VPN Kill Switch Built into software: When enabled, the kill-switch will instantly kill all internet access if the VPN disconnects. This prevents your true IP address from being exposed to peers in your torrent swarm or via your web browser.
Free proxy service included: A little-known feature of PIA is that they give you access to a fast Netherlands based proxy server at no additional charge. Your favorite torrent client can easily be configured to connect through the proxy for greater anonymity. You can even use the proxy and VPN simultaneously for double the protection (two IP address changes between you and your torrent swarm). We made an entire Youtube Video on how to use Private Internet Access with uTorrent.
Why PIA is perfect for torrents:
No Logs. Period.
Torrents specifically allowed. Anonymity protected.
Internet Kill-Switch to prevent IP Leaks
Anonymous Proxy Service included Free!
256-bit Encryption
Excellent VPN Software
Best Cheap VPN for Canadians – ibVPN
At only $3.08/month, ibVPN beats out even Private Internet Access for the title of most affordable VPN provider. ibVPN does have higher priced packages, but for $3.08/month with a 1 year subscription you can choose from regional server packages, including: EU VPN, US/Canada, or Torrent VPN.
ibVPN keeps temporary connection logs (not activity logs) for 15 days. Since their used shared IP addresses, these logs are not sufficient to identify individual users.
Other Great VPN's worth considering…
LiquidVPN
If you're really serious about your privacy, you should definitely take a look at LiquidVPN. At $10/month they're a bit pricier than the options listed above, but they make it up for it with security and privacy features bordering on paranoid (and we love it).
LiquidVPN keeps zero logs and they firmly believe in net-neutrality meaning they don't block any traffic types on their network. Torrents allowed on LiquidVPN.
One of the biggest differences between LiquidVPN and other major VPN providers is that they use Viscosity VPN software (award winning 3rd party software) instead of their own client software. They do this to increase transparency to their subscribers (you know exactly what's being installed on your system instead of being forced to trust the customized software your VPN is installing with administrator privileges.
Liquid VPN also published a Transparency Report and Warrant Canary. The transparency report discloses every warrant and DMCA request they receive for activity on their network, and the warrant canary is designed to circumvent a potential gag order in order to alert subscribers if their network security has been compromised.
ExpressVPN
ExpressVPN really excels in 2 areas: Ease of use, and speed. Express VPN's software is some of the best we've seen, and they have a mobile app for iOS and Android that offers virtually identical functionality to their desktop software.
Check out our ExpressVPN review and speed test to learn more.