Posted
October 30, 2014 by TopDog
in Articles
Get Free Smart DNS with these VPN Providers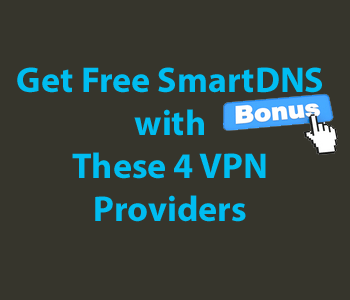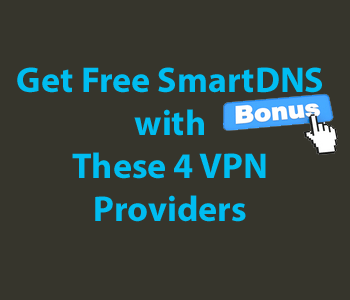 Smart DNS technology, if you're not already familiar with it, is much more efficient than a VPN service when it comes to streaming geo-blocked media from around the world. Where a VPN uses encryption (uses up bandwidth) and routes your data through a third party server, SmartDNS allows you to stream videos from Netflix, Hulu, and Youtube from anywhere in the world without the need for a VPN.
Basically SmartDNS works like this:
You're in Australia, but you want to watch American Netflix, but it's blocked in your country.
The SmartDNS server recognizes Netflix.com as a special geo-blocked service when you type it into your browser
It routes your login information and Netflix site browsing from a U.S. based server and transmits the data back and forth to your computer through a proxy tunnel. This allows Netflix to verify your location as 'In the USA'
Once you've picked a video to watch, there is no more need for Geo-location checks so the video is streamed straight to your computer from netflix's 'Content Delivery Network' which is located on a separate server, with no further need for the DNS proxy.
For more information we check out this article we wrote on SmartDNS.
There are dozens of 'SmartDNS' services popping up all over the place, most of which charge about $5/month to use their DNS servers. If you're happy just paying the $5 for only smartDNS, we're happy to recommend a few options, but the truth is that SmartDNS servers are so easy to set up (and they use almost no bandwidth) that several VPN providers are giving smart DNS service away for free!
VPN Services that Include SmartDNS for free.
These VPN providers offer free smart DNS service included in their VPN packages. Most of the ones we feature offer it in all their packages, though a couple only offer free smart DNS in their higher end VPN packages.
We think VPN + SmartDNS is a great combo because you get the benefit of encryption when you need it, and fast media streaming and geo-unblocking without bandwidth-sucking encryption when you don't.
PureVPN + Smart DNS
PureVPN's service has gotten dramatically more impressive in the past year or so, and their prices have dropped at the same time, making them one of the most affordable, well-rounded VPN providers on the market.
Every PureVPN subscription includes SmartDNS service
Even better, PureVPN offers mobile protection too with their OpenVPN enabled app for iOS and Android devices included free with every VPN purchase. Your device can easily be configured to use their SmartDNS servers as well so that you can stream Netflix, Hulu, HBOGO and more to your mobile device without geo-restrictions.
More PureVPN Features:
OpenVPN, SSTP, L2TP, and PPTP protocol options
256-Bit Encryption (Military Grade)
Split Routing (Choose to only route specific programs through the VPN tunnel)
SmartDNS Included Free
Optional NAT firewall
61,000 unique IP addresses to hide behind
Servers in over 78+ countries
Mobile PureVPN App included
VPN Kill-Switch
5 simultaneous VPN connections allowed
PureVPN has listened to their customers over the past year and made huge upgrades to their software, server locations, and bandwidth capacity. It's no wonder they're the choice of over 1 million VPN customers. If you want to know more about their service you should check out our full PureVPN review. We also did a video review.
PureVPN Discounts:
As of this writing, PureVPN is offering a 65% discount on 1 year subscriptions which you can get for only $49.95.
IronSocket VPN + SmartDNS
IronSocket VPN is a newer company based in Hong Kong, but they decided that the best way to compete in a crowded marketplace is by giving their customers as much value as possible for the best price.
When you purchase a VPN subscription from ironsocket you also get:
Free SmartDNS service
2 free proxy services (http & Socks5)
OpenVPN, PPTP, and L2TP VPN Protocols
3+ simultaneous VPN connections
24/7 tech support
7 Day money-back guarantee
Monthly pricing starts at $6.99/month for Ironsocket which makes them one of the most affordable VPN services, but they actually offer a 40% discount when you buy one year of service, which brings the price down to $4.16/month.
Invisible Browsing VPN + ibDNS service
IBVPN includes ibDNS service (their smarter version of SmartDNS) with any purchase of their top two VPN packages ('Total' or 'Ultimate'). One of the big benefits of their proprietary SmartDNS technology is the ease of use. You can connect to their SmartDNS service with 1 click from their desktop VPN software, so you never have to mess with your router settings to change your DNS servers.
IBVPN offers as many as 80+ server locations depending on the package you choose (the ultimate package has the most). They allow torrents on specific servers and they include their excellent, easy-to-use desktop VPN software for free with any purchase.
The Ultimate Package Includes:
80+ server locations
256-Bit Encryption
Free proxy service in 5 locations
Free ibDNS (Smart DNS)
Torrent in 6 countries
2 simultaneous VPN connections
$10.95/month
15 day refund policy
The TotalVPN package includes everything above except the proxy service and a few server locations and is $3 per month cheaper at $7.95/month. Unless you really need the extra proxy servers, we think the TotalVPN package is by far the best value. IBVPN also offers even cheaper packages starting from $3.08/month.
Overplay VPN with Free SmartDNS
Overplay includes SmartDNS service free with all their VPN packages. They promise access to over 50 channels worldwide via SmartDNS including Hulu, Netflix, HBO, A&E, History, BBC, iPlayer and more. Visit Overplay to learn more.